Services
Global Aviation Resources offers a full range of aircraft rotable parts for sale, exchange or lease.  We provide aircraft parts for all Commercial Air Transportation including Corporate Jets, Regional Aircraft, and Commercial Turboprops.  We have a dedicated technical staff to manage and meet all your inventory repair needs.  With our global network of airline customers, repair stations, world class trading partners, and our commitment to on time delivery, we respond quickly to your aircraft equipment needs.
Aircraft Sales & Purchasing
When you need to expand or reduce your aircraft fleet, Global Aviation Resources maintains expertise in aircraft acquisition, sales and consignment to meet your needs and ensure your satisfaction.  We support provisioning requirements with the best value services.
Repair Contracting
From start to finish, we take care of your repair needs and have the technical expertise to keep all costs in line.  We can provide lease or exchange units while your unit is being repaired.  Our mission is to consistently create new ways of saving money for our customers.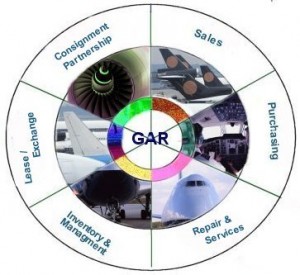 Engines:
CFM International, GE Aircraft Engines, Rolls Royce & Pratt Whitney
Avionics & Instruments:

Ametek-U.S. Gauge

Dorne & Margolin

Lear Siegler

Bendix/King

Eldec Corporation

Litton

Clifton Precision

Fairchild Controls

Sfena

Collins Avionics

Gables Engineering

Simmonds Precision

Conrac Controls

General Electric

Sunstrand Aerospace

Delco Systems

Honeywell

Western Instruments

Kollsman Instruments
Rotables & Accessories:

Abex

Hydro-Aire/Crane

Ronson Hydraulics

Alco

ITT Corporation

Sargent Controls

Allied Signal Aerospace

J.C. Carter

Sterer Engineering

Goodrich

Lucus Aerospace

Task

Dowty Aerospace

Monogram Sanitation

Teledyne Controls

E Systems

Nordskog

Unisys Corporation

Garrett Airline Services

Parker Hannifin

Vickers

Grimes

Rohr Aero Services

Westinghouse Electric

Hamilton Sundstrand


Rolls Royce

Whittaker Controls